MOOJAG and the LOST MEMORIES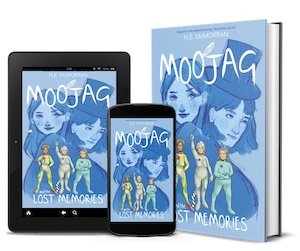 The second book in the MOOJAG series, Lost Memories is a stand-alone sequel to award-winning dystopian adventure mystery 'Moojag and the Auticode Secret'

When Nema returns to Gajoomdom, she discovers three forgetful grannies who have totally lost track of time. If she and Moojag can't help them remember, everyone's memories are in danger. But turns out not everyone is who they thought they were. Who will they rescue? Will they rescue them in time to save their perfect Real World from the nasty Conqip?
The Lost Memories, inspired by the author's gran and living with dementia and disability during the pandemic, shows us the impact of loss and the power of memory.

A multigenerational adventure for readers 9yrs and over (especially ND families and their grans!).
You'll whizz through this second Moojag story, like the wrinkly new characters who star in it!

Spondylux Press.